Dear friends and fellow #winelover-s,
We finally have the program outline, so those of you who are planning to come can make all the necessary arrangements. We will post more details again here  and on www.linktr.ee/winelover, including costs and list of hotels where you can book your stay at special rates.
The #winelover team, especially our friends from Greece, look forward to welcoming you all to their beautiful country! Yamas!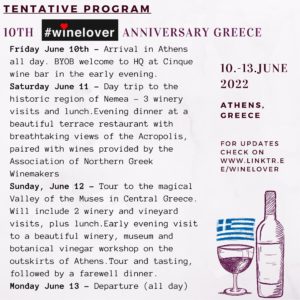 Tentative 10th #winelover Anniversary Program – Greece
Friday June 10th
Arrival in Athens (all day)
BYOB welcome to HQ at Cinque wine bar (https://www.cinque.gr Voreou 10, Athens,Greece) in the early evening.
Saturday June 11
Day trip to the historic region of Nemea
3 winery visits and lunch
Evening dinner at a beautiful terrace restaurant with breathtaking views of the Acropolis, paired with wines provided by the Association of Northern Greek Winemakers
Sunday, June 12
Tour to the magical Valley of the Muses in Central Greece. Will include 2 winery and vineyard visits, plus lunch
Early evening visit to a beautiful winery, museum and botanical vinegar workshop on the outskirts of Athens
Tour and tasting, followed by a farewell dinner
Monday June 13
Departure (all day)
————————————————-
Pre-Anniversary Tours – Romania
For friends who in the period from May 30 to June 5 would like to enjoy a unique opportunity, our friends from winelover.ro have put together a community pre-anniversary program, including winery tours in Transylvania.
The tours will start in Bucharest with a masterclass presented by Luiz Alberto on May 30th. There will be Wines with Personality chosen by Luiz among those participating in the VINARIUM competition. They will then leave for central Romania, Transylvania, early on May 31. The tour will include a visit to museums, wineries, local restaurants and a presentation of Transylvanian sparkling wines.
Besides many other surprises, our friend Razvan reminds us that there will be the first Int'l Day celebration of the Fetească Regală variety in Mediaș.
The program includes: tour transportation (van rental, road and fuel taxes), accommodation for 6 nights (single room / person), two meals / day, access to museums and other tourist attractions that are paid. And for those who want to arrive in Greece on June 10 directly from Romania, they can organize an extension trip to the Dealu Mare wine region near Bucharest.
For those who want to sign up, please contact Razvan directly on his FB profile https://www.facebook.com/razvan.stoenescu.9. Noroc!