…
On March 1st til 3rd, 2019, the 26th edition of Oenorama has taken place in Athens in the beautiful venue of Zappeion, five minutes walk from Syntagma Square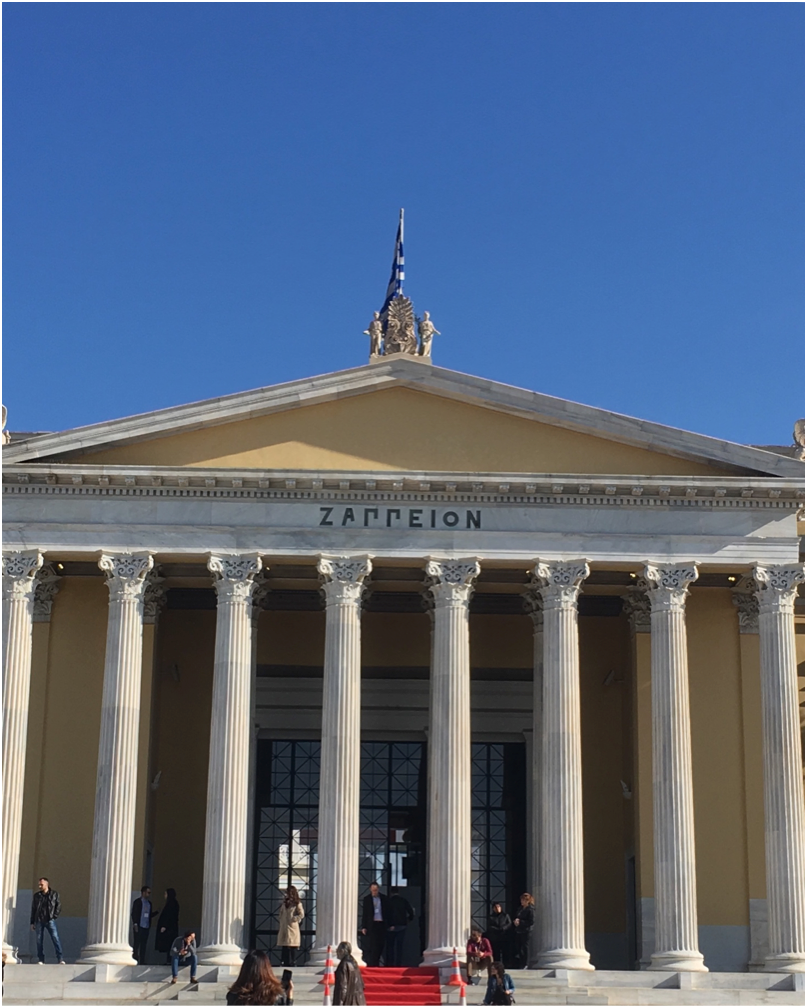 Some 180 wineries from across the country were present bringing the flavors of many varieties and terroirs. Since the subject is, in my opinion, very vast, I've chosen to focus this article on the insular production.
Here's a review of the wines that I've liked the most:
MANOUSAKIS WINERY – From Hania (Crete)
Nostos Assyrtiko 2017 – Fermented and aged in steel tanks, four months on lees .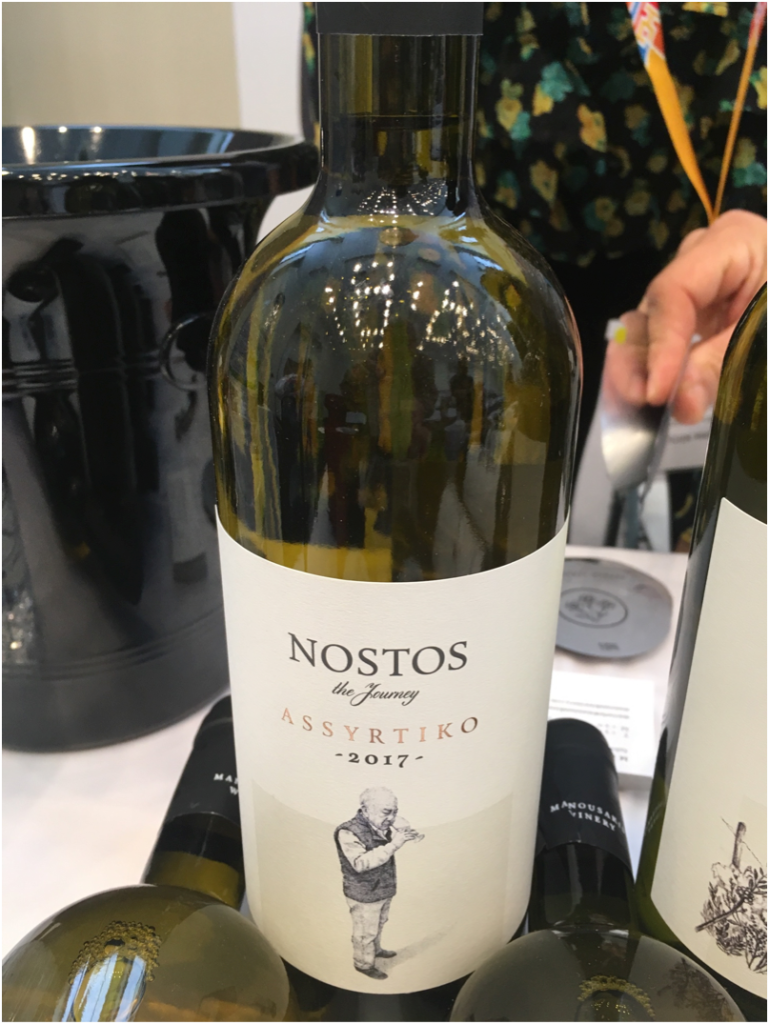 …
-Nostos Vidiano 2017 – Same vinification and ageing for this wine from an authoctonous variety as for Assyrtiko.
…
–Nostos blend 2016 (43% Syrah, 34% Mourvedre, 20% Grenache Noir, 3% Roussanne) – Aged in barriques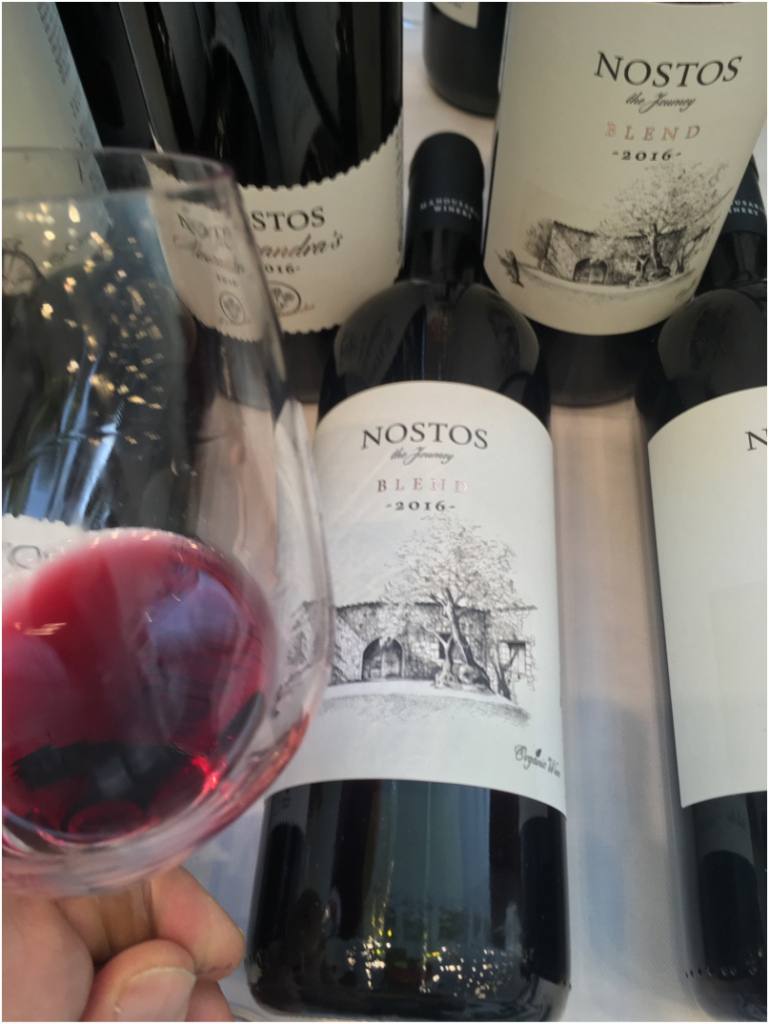 …
Other two wines I liked were Nostos Muscat of Spina (Muscat petits grains)– from ungrafted vines at 700 mt. of altitude, dry, jasmine nose but less intense than in versions from other parts of the world, it surprises for its structure, pretty pronounced for the varietal.
Nostos Roussanne 2017 Fermented and aged with lees for six months in French oak barrels You can feel the vanilla, but very good especially if you're fond of Northern Rhone whites.
…
SILVA WINERY – From Iraklion (Crete)
-Grifos white 2017, no added sulphites, 100% Vidiano, vinified on skins in 3hl amphoras, where it stays for a month and a half, then a further 4 months in oak.
…
-Grifos Rosé 2018 100% Liatiko, vinified in amphora, also here no sulphites were added.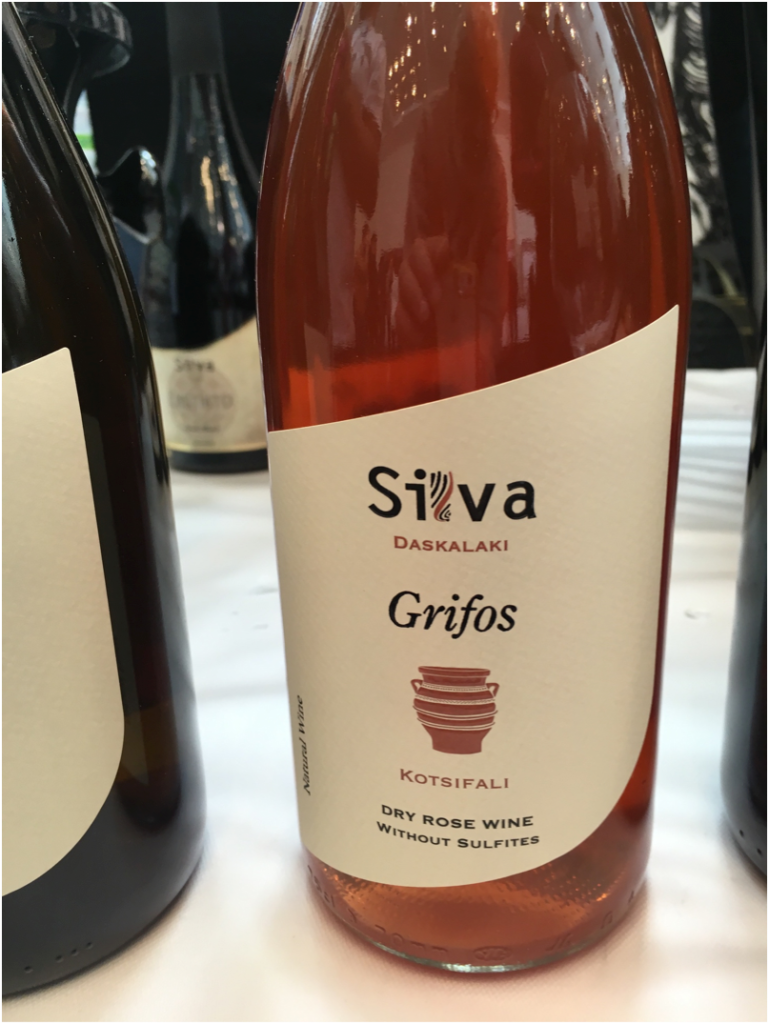 …
-Silva Liastos 2009 – Sweet Fortified Aged four years in barrels
…
All the wines presented by Silva were convincing, a special mention deserve their conventional Vidiano (2018) and the Psithiros red 2014 (60% Liatiko, 40% Merlot)
…
-GENTILINI – from the Ionian Island of Cephalonia.
On Cephalonia the dominant variety is Robola. Until recently it was thought identical to Ribolla Gialla/Rumena Rebula. Now we know that there are differences in their DNAs, I can tell that the organolectic spectrum is similar to the one of its northerly relative, but it ripens quickly, while Ribolla Gialla is a late variety.
-Gentilini Robola of Cephalonia 2018.
Eye: clear straw yellow – Nose: citrus fruit, mostly yellow grapefruit – Palate: whenever I spot the grapefruit on the nose I get a little nervous before the first sip, I'm afraid of harsh acidity and/or bitterness, here everything went smoothly, the structure and some fat sensations softens the citrus which is well present until the long finish.
…
Gentilini Lees24 Robola 2015. 24 months on lees and 36 of total ageing give a splendid wine.
Eye: nearly identical to the younger one – Nose: very complex, less citrus (anyway present), white flowers and sweet spices. – Palate: on top of the aromas above mentioned, a lot of salty minerality. It's very lively and persistent. Yet another example that you can make great whites in a Mediterranean climate.
…
–GRAMPSAS WINERY from the Ionian island of Zakynthos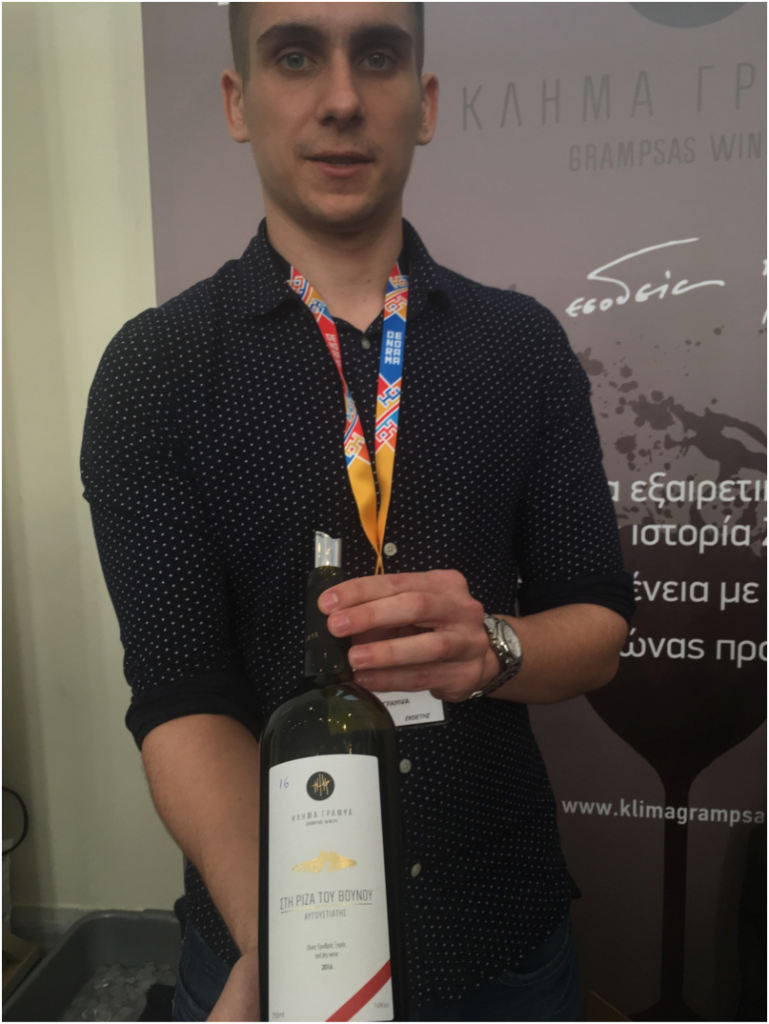 …
SARRIS WINERY From Cephalonia
Robola 2018 (Brut de Cuve)
Briefly because some organolectic such as the visual ones will change soon: the nose showed intense golden apple and some yellow grapefruit, on palate a big salinity and, surprisingly for a Brut de Cuve, an incredible length. The coming summer quite a few tourist on the island will be stunned by this wine.
V for Vostilidi 2017. An indigenous white variety
Eye: clear straw color – Nose: delicate and floral – Palate: an explosion of vegetal aromas, sage, menthol, very good structure, a persistent warm and round retronasal feeling which made me asked if Vostilidi was related to Trebbiano ("Not at all" the answer)
…
Kokkino Sarris (Red of Sarris) 2018 100% Dry Mavrodaphne from a 700mt of altitude vineyard. No sulphites were added.
Eye : almost black – Nose : lovely, mostly black cherry, a bit of black cherry too. – Palate: the acidity is moderate but the wine isn't flabby at all, thanks to a quite high tannicity and to a lot of salinity. Very persistent.
…
-LIPSI WINERY From the island of Dodecanese with the same name.
-Aposperitis 2013 – A sweet, red wine, 100% Fokiano. Late Harvest then the raisins are left three to four days on mats for sundrying. To make a liter of must they need about four Kg of grapes.
…
Also very good their dry red AKTEON 2017 (60% Fokiano, 40% Syrah) from young vines, 12 months in French oak barrels, medium body but good balance and persistence.
…
Still in the Eastern Aegean but moving North to Hios: ARIOUSIOS
Assyrtiko 2018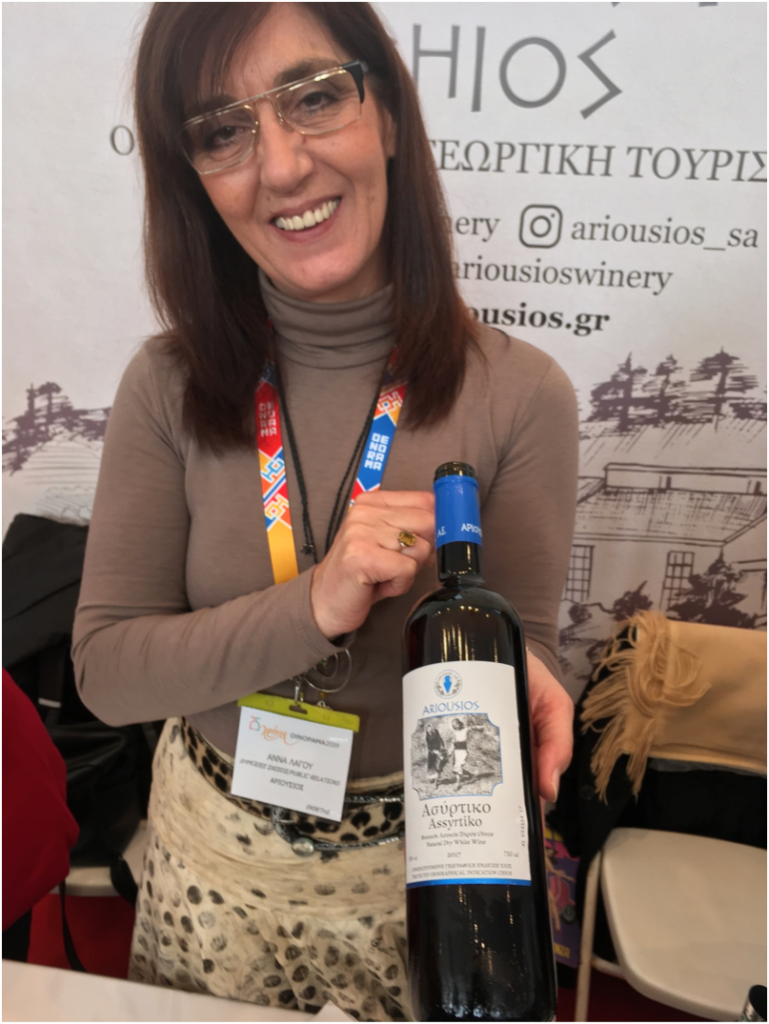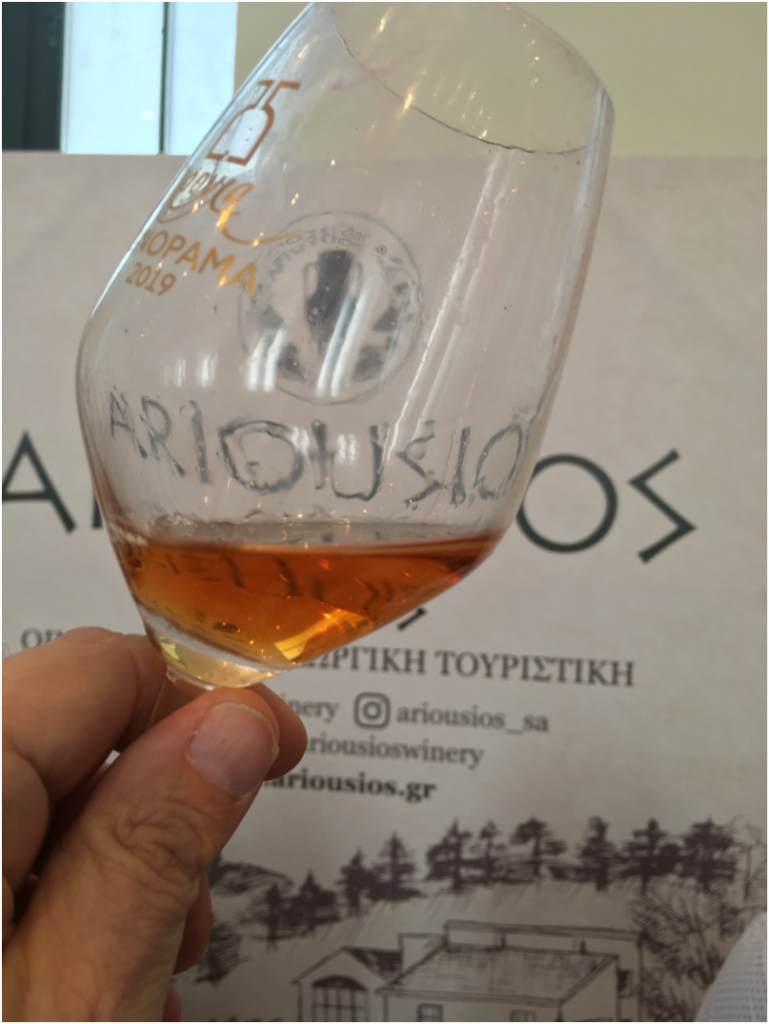 …
Hiotiko Natural 2015 No sulphites red 100% from indigenous Hiotiko.
Eye: almost ink – Nose: a bit fruity (sour cherry) and animal (mostly raw meat) – Palate: very tannic, which is a peculiarity of this variety, another animal sentor emerges, leather, which becomes prevalent towards the long finish. Again a great wine for my taste.
…
Now to SANTORINI: SIGALAS
Kavalieros 2017 100% Assyrtiko from a single vineyard at 300mt of altitude, 18 months on lees, unoaked.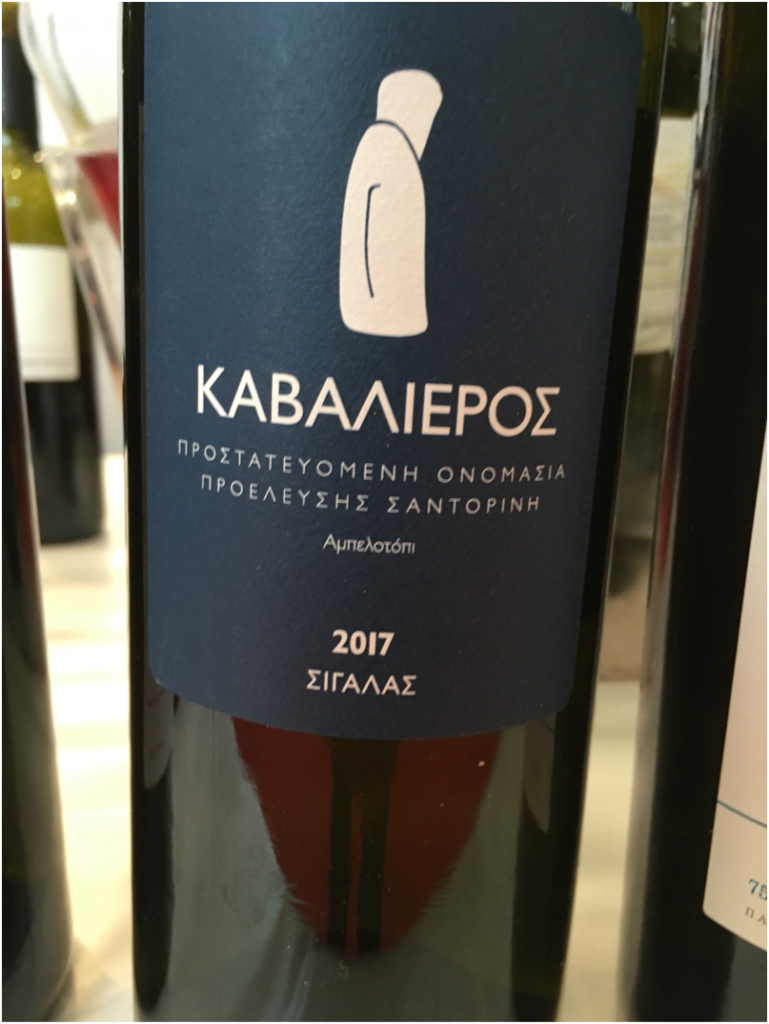 …
Vinsanto 2013 sweet straw wine 75% Assyrtiko, 25% Aidani. Aged in barriques
Eye : orange to granat – Nose : of great complexity, dried fig, a bit of apricot, a touch of hazelnut. Palate : low acidity, but it reveals spiciness, great persistence. I think it has still much life ahead, but it'll never be an easy drink.
…
A final mention for their Apiliotis 2011, a 100% Mandilaria, ruby color, fruity nose of black cherry, dark plums, spiciness of black pepper and cloves especially on palate, the varietal tends to have green tannins which, in this case, give a nice tension.
…
That's what I had to say on the wines from the Greek Islands tasted on this edition of Oenorama.
Of course also among the wines from the Mainland quite a few were excellent, some truly amazing. Really my first visit to this event went well beyond my already high expectations.
…
For further informations you can send a mail to this address : baldisserri.luka@yahoo.com
Yamas!
Gian Luca Garattoni, CST of the #winelover community