Dr. Seuss and Wine: A Croatian Perspective
By: Mirena Bagur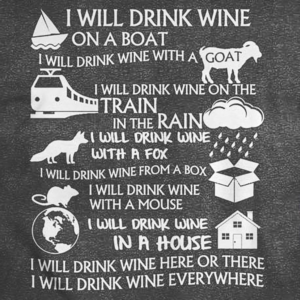 Ever since I started living in America, I've been fascinated by Dr. Seuss and his whimsical melody of syllables — while seemingly non-sensical, they make a lot of sense for learning. I should know. Because, even as a college-educated immigrant, English was still a second language to me, and reading Dr. Seuss with friends' children was helping me with pronunciation and American culture.
As a mother of three children, (including twins who I dressed up as Thing One and Thing Two for Halloween, while I wore a red and white tall hat), I am aware of not only how important it is to read to children, but how much a parent can enjoy that time.
At the same time, parenting is a stressful job. For every child that needs reading, there is a parent that needs to stay sane and have some down time to put life in perspective.
Here is my silly contribution to celebrating all parents who need a bit of responsible encouragement on March 2nd — the National Read Across America Day (Dr. Seuss Day), an initiative on reading created by the National Education Association.
Cheers! Živjeli!
Tribute to Parenting on Dr. Seuss Day
By: Mirena Bagur
One wine, two wines, three … maybe not!
Old vine, new vine, perhaps a jack pot?
This one has a golden star,
This one's dream is not too far.
Say, what a lot of wines there are.
Some are white, rosé, and orange,
Some are red and meant for storage.
Where do they come from? I can't say.
But I know they've come a long, long way.
Not one of them is like another.
Don't ask me why, go ask your mother.
My mother would say,
"Croatia of course,
where life is full of flavors,
and one has no remorse
when sipping a white, rosé, or orange,
and there's no will to put red in storage."
Some are from the Uplands, some from Istria,
some from Slavonia and Dalmatia.
But whether they are from here or there,
one can enjoy them everywhere.
So, after you read
about one fish or two,
and wish for a peaceful time for you,
here is what I suggest you do:
Raise a glass to yourself: Živjeli!
Read and enjoy wine responsibly.
Mirena Bagur, Co-Founder and VP/Brand Management, Croatian Premium Wine Imports, Inc., www.croatianpremiumwine.com, was born and educated in Croatia.  Always up for adventure, after college years in Zagreb, Croatia, Mirena traveled around the world and settled in Boston, Massachusetts, where she had a career in technology marketing.  She is thankful for her parents who instilled in her appreciation for the Croatian community, history and culture, for her children who love the Croatian culture, but, despite her reading Dr. Seuss to them, lovingly mock her accent, and her husband who is her partner in crime.