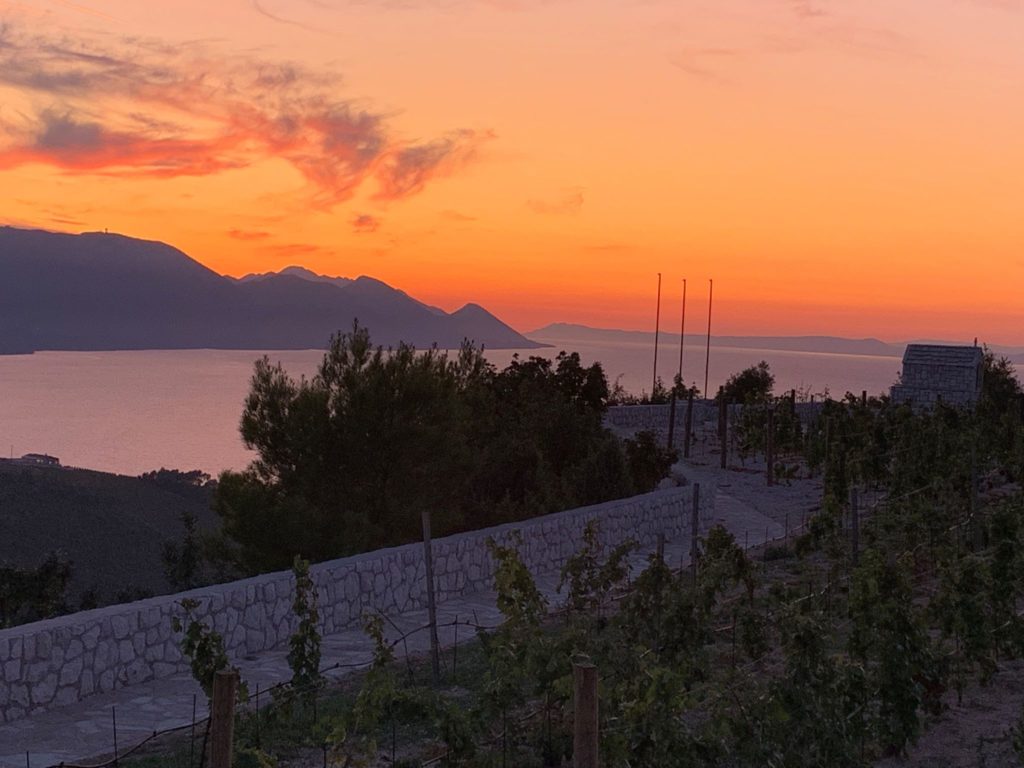 After the great #SeeYouInZagreb three day #winelover event on mid-September, five of us left to Southern Dalmatia, on a tour organized by Croatia Premium Wine Import (www.crotianpremiumwine.com) , a company based in the United States, owned by Mirena Bagur and her husband Win Burke. They are focused on Komarna Wine Region, which is located in Dubrovačka Neretvanska county, Croatia's Southernmost.
Mirena was our driver and guide offering us a Dalmatian full immersion week, Win joined us in the second half of the week
The participants were Nanci Bergamo, Sue Tolson, Luiz Alberto, Richard Auffrey and I.
We were lodged in the lovely seaside little town of Gradac, along the Makarska Riviera.
Some facts about Komarna
Named after a village on the coast, the area is included in Dubrovačka Neretvanska County, Croatia's Southernmost. On the map it can be found between the Neretva's Delta and the border with Bosnia-Herzegovina (there is a discontinuity on the Croatian coastline, for 28 km you are in another country before re-entering Croatia).
Until 1999 the land was unsuitable for any form of agriculture: steep, often very steep, slopes, sedimentary rocks, generally limestone. Then powerful machines were brought in, rocks were crushed into stones and gravels, making possible to plant vines and olive trees.
A brilliant idea was to make Komarna an "organic farming only" area: having started agricultural exploitation from scratch, the enterprises didn't have to ho through the otherwise mandatory three-years conversion period. Also the dry and windy climate helps in disease control.
The most planted varieties are Pošip and Plavac Mali, Tribidrag comes in the third place, the rest are Syrah, Tempranillo, Chardonnay and so on.
Currently the total vineyards surface is a bit more than 80 hectares shared by seven owners ( the "K7" or "Komarna sedan"). There is room for more plantings but just a little: it's unrealistic to imagine that more producers will exploit the region.
We could visit three wineries: Rizman, Terra Madre, Volarević , one more, Deak, invited us to a restaurant because their tasting room wasn't completed yet.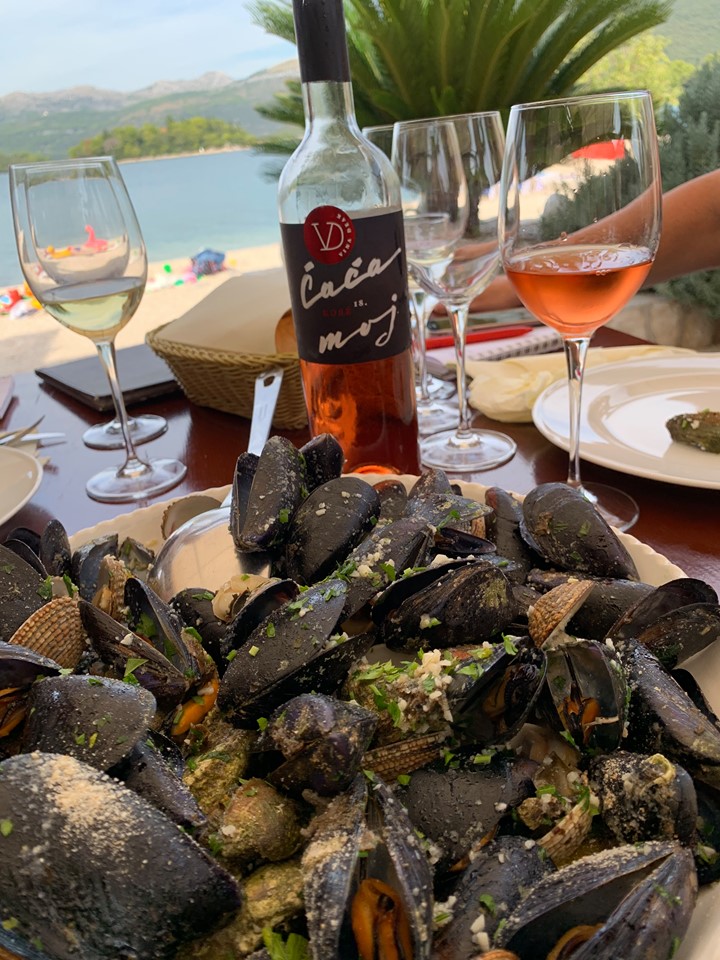 And Vinarija Deak (www.vina-deak.com) were the first to present their wines treating us to a great lunch at Seosko Domaćinstvo Ficović in Hodilje, by the seaside, at the beginning of Pelješac Peninsula, just outside the town of Ston, whose defensive walls (Stonske Zidine) are included in the UNESCO's World Heritage List.
For a detailed account of the menu I recommend to visit Richard Auffrey's www.passionatefoodie.blogspot.com He's one of the gourmets of our community and has written, if I recall correctly, fourteen articles about Croatia since last September.
The owners, Mr. Damir Deak and his wife, presented four wines all called "Ćaća Moj" "My Daddy" in Dalmatian dialect, a tribute to the late father of Mr.Damir.
We began with Pošip 2017, unoaked, 6 months on the lees.
The color is pale gold, which is varietal.
Nose: quite intense, mostly vegetal (lemon leaves)
Palate:vegetal and earthy, well structured, enough acidity, very persistent. Those who attended the Belgrade hangout four weeks later had the opportunity to taste it, since Sue Tolson brought a bottle.
Pošip 2018: it's somehow leaner, showing some citrus fruit on nose and palate, in this vintage I could easily find saltiness. If the length of the "2017" should be intended as "persistence", the one of the "2018" means more "verticality": the aromas reach the middle of the chest.
Rosé 2018 Plavac Mali
For those familiar with the varietal the color shouldn't come as a surprise: it looks more like a claret than a rosé. and….also tastes more like a claret.
Nose: mostly fruity (strawberry, sour cherry)
Palate: one can appreciate a good structure, lovely acidity, good persistence. A good one.
Plavac Mali red 2016. Almost black
Nose: good complexity, fruity (black and wild cherry, a bit of blackberry and dark plum), spicy (cloves)
Palate: even more complex,, also notes of black and white pepper. The wine is already enjoyable but the abundant tannins will need a couple of more years to soften fully. Despite its obvious ripeness the wine isn't flabby at all: good acidity seems to be a trait all Komarna wines have in common
A final mention for Ficović restaurant: their seafood is awesome!
After a late (we started at 3 p.m.) lunch (some lunch!) we headed for the next tasting unaware that an early đinner (some dinner!) was awaiting us.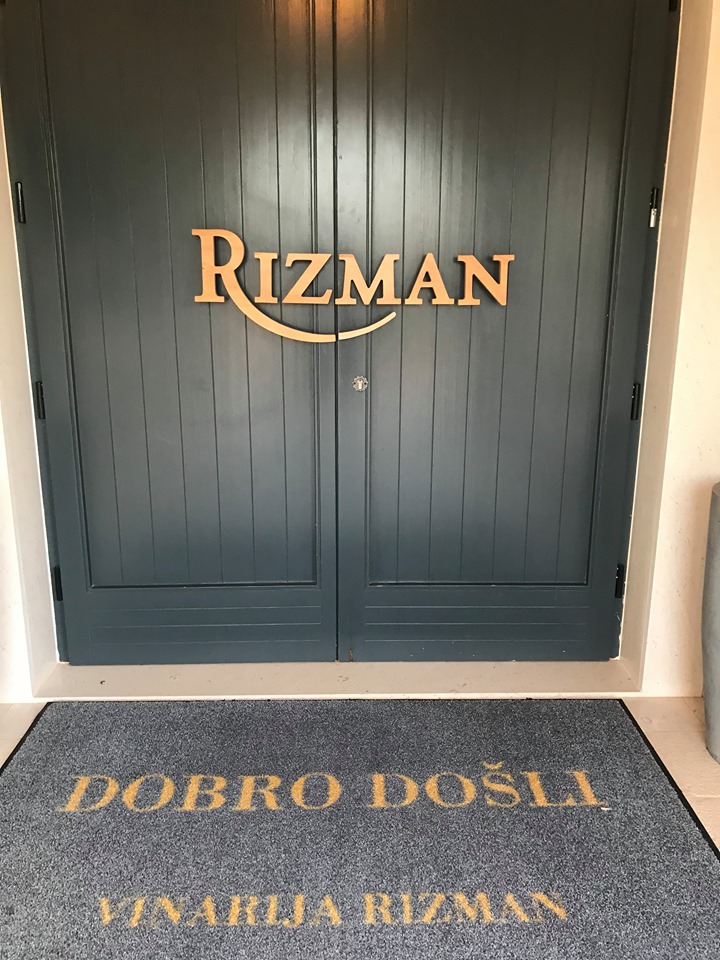 Vinarija Rizman (www.rizman.com.hr)
Owned by the three Štimac brothers, all sports legends in their country, Igor, defender of the National Football team at France 1998 World Championships, being the most famous worldwide, is the winery whose wines are more likely to be tasted by a foreign tourist. In fact they have a roadside café, on the main road (Jadranska Magistrala) connecting Split to Dubrovnik. The photo was shot from the café.
The winery is located about a km from the café, in the photo below, taken from there you can see a tiny village on the coast, it's Komarna, the structures in the sea are pillars of the Pelješac bridge which, once completed, will allow bypass the double border control on the main road, shortening significantly the travel time to and from Dubrovnik and making possible for Croatia to enter the Schengen union.
At the winery there is also a restaurant which opens only for reservations offering gourmet dishes. For us they prepared a "mini fine dining": each wine was paired with a particular food. Here's a review of some of the wines presented to us.
Pošip 2018
Alcoholic, malolactic fermentations and ageing in steel tanks. About 6-7% of Viognier
Eye: pale gold
Nose: predominance of white flowers, also fruitiness (citrus).
Palate: nice complexity, to the floral and fruity aroma above mentioned add a gentle minerality (iodine, salt). Not much structure, a subtle white, with a long finish. 
Ruzula 2018 rosé
90% Plavac Mali, 10% Syrah
Eye : the picture is not underexposed, this is what happens if you leave Plavac Mali must 20 minutes on the skins.
Nose: fruity, mostly sour cherry.
Palate: good structure, saltiness, excellent acidity, long finish. I found this wine lovely,"easy-to-drink" and complex at the same time.
Tribidrag 2016
(photo taken at Zagreb's Bornstein few days before)
Small amount of Tempranillo
Eye: dark purple
Nose: plenty of black fruit (cherry, wild cherry, blackberry, plum)
Palate: fruit consistent with the nose impression. Abundance of soft tannins, not particularly acidic, however not flabby. Good persistence. An "opulent" wine, which, luckily, falls short of being a "monster" one.
Primus 2015 Plavac Mali
Their premium Plavac Mali, with, also here, a bit of Tempranillo. Unoaked
Eye: the color is ruby, the 2015 didn't produce particularly concentrated wines.
Nose: lovely red fruit (mostly sour cherry)
Palate : straightforward, excellent acidity, very fine texture (silky tannins),long, long finish. Fine, deep, vertical, for my taste, awesome.
St. 2016 Syrah Family Collection
With the label St.Michael are released wines which can be from different varieties according to the vintage, for instance, the "2017" is going to be a Tribidrag.
This is an excellent Rhône-style Syrah.
Eye : very dark ruby
Nose : plenty of forest berries
Palate: again the fruity notes, here more on the red cherry, fine tannins, round and expressive, just to give an idea, more on the Côte- Rôtie , than any other North-Rhône appellation. The finish is very good for its persistence.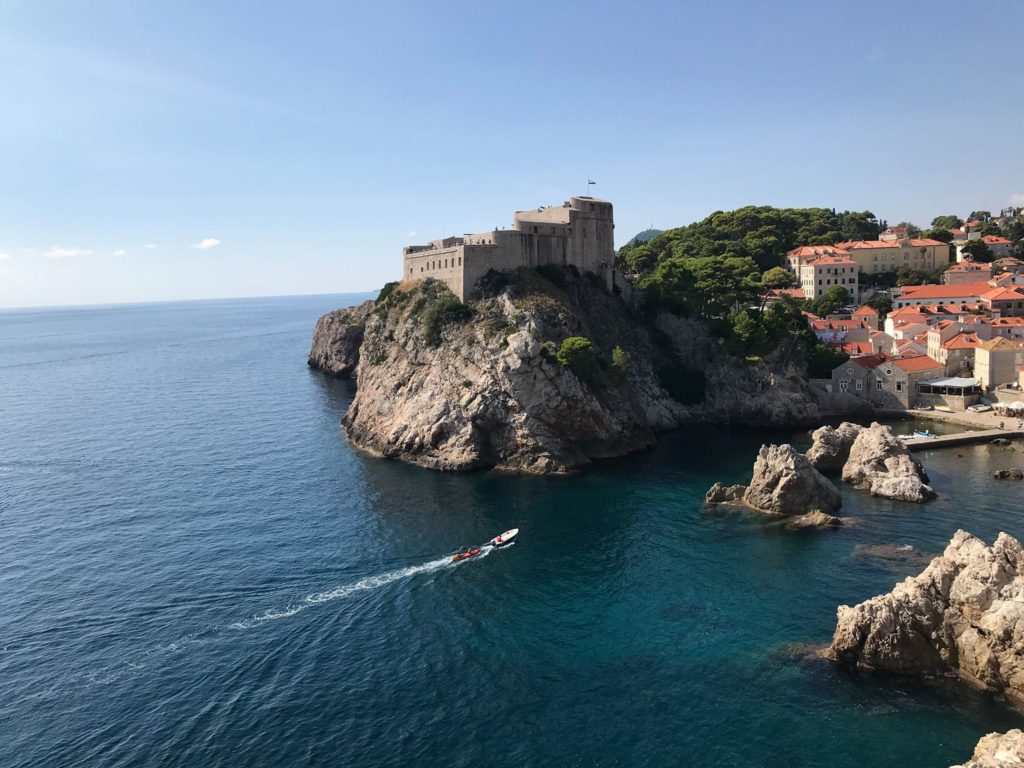 The following day we visited Dubrovnik, where we were guests of the County's Council, who offered us a guided tour of the wonderful Old City, a free access to the City Walls and a lunch in the fabulous Proto restaurant, where we met again the sommelier, fellow #winelover Siniša Lasan, our guide in Međimurje the first day of #SeeYouInZagreb.
We had other "non-Komarna" excursions: we visited the Franciscan Convent of Gradac and Pelješac, with a particular focus on Dingač.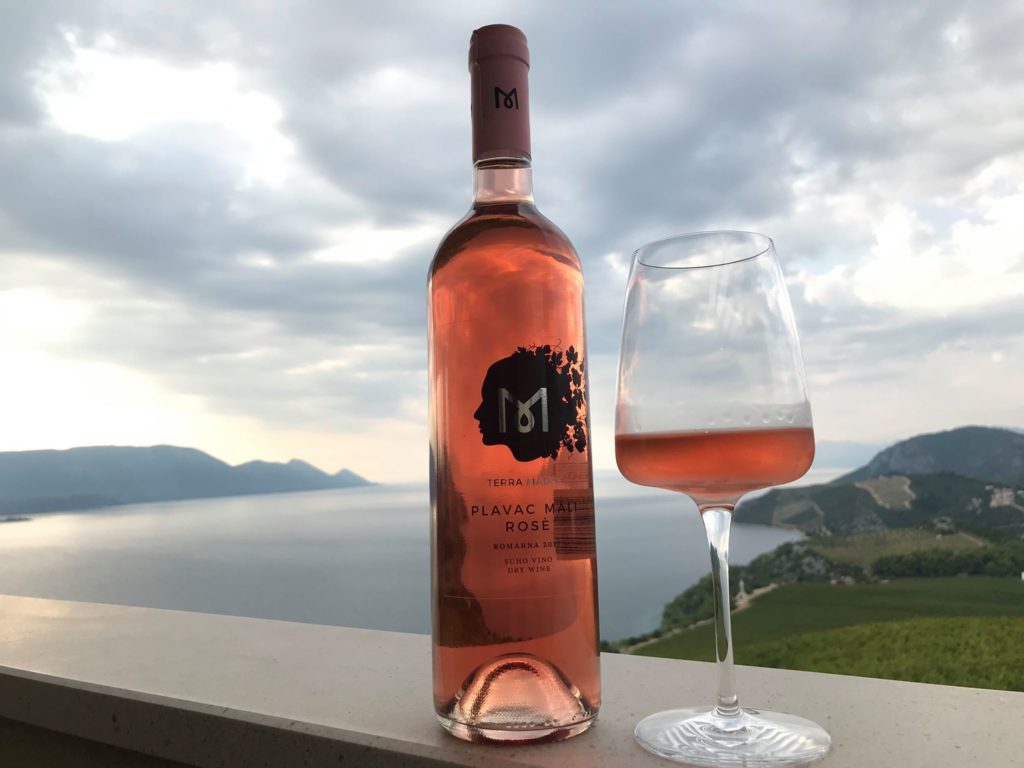 The third Komarna winery we made acquaintance with was Terra Madre.
A rather large winery for Komarna's standards (17 hectares). They cultivate, like all others, mostly Pošip and Plavac Mali.
Also at Terra Madre's we were treated with a great dinner (Balkanic hospitality), I was really impressed by the lamb.
As for the wines:
Plavac Mali rosé 2018 (sic, they used provisionally the previous vintage label)
From free-running juice (rosé de pressurage)
A bit of Syrah was blended.
The Eye it's somewhat "paler" than the previous ones
but here there wasn't any skin-contact at all.
Nose: sour cherry, raspberry, also floral (violet)
Palate : excellent freshness and length. Another very good rosé from Komarna.
Pošip premium 2018, (unoaked)
About this wine, I'm writing the impressions
from a second tasting, in Sarajevo, five weeks after our visit at the winery
Eye : straw
Nose : vegetal (lemon leaves) a bit of citrus fruit and white flowers.
Palate : good salty minerality, a slightly "lean" type of Pošip but it's very long.
A great wine in my opinion.
Plavac Mali Premium 2016
Aged in barriques, not released on the market yet.
I was really impressed.
Eye: the picture reproduces well the visual aspect, however for those with visual difficulties it's almost as black ink.
Nose: black fruit, (black and wild cherry, blackberry, plum)
Palate: ripeness confirmed with a big acidic/tannic presence ensuring freshness and length. After three more years in bottle, it will be a memorable wine!
The last winery we visited was Vinarija Volarević (www.vinogradi-volarevic.com) Vinarija Volarević (www.vinogradi-volarevic.hr)
Their facility isn't located in Komarna , but in Metković, Neretva's Delta, where they run the largest nursery of the country..
Before the visit we were taken on a cruise in the Delta on a traditional boat, normally used to transport the harvest.
There countless very fertile islets in the area, separated by a maze of canals: boats are the only possible mean of transport, a bit like in Venice. The cruise lasted about an hour, live folk music was played, and we were offered cold cuts liquors and, what I liked most, Travarica, a wine rakija (or loza) in which are infused herbs growing only in the region.
Once at the winery, we were presented with many different wines: a few were experimental, another (called Quattro, excellent white BTW) was from the nearby hills, not Komarna, so I'll be selective in my reviews. However the following picture can give an idea of the "line-up"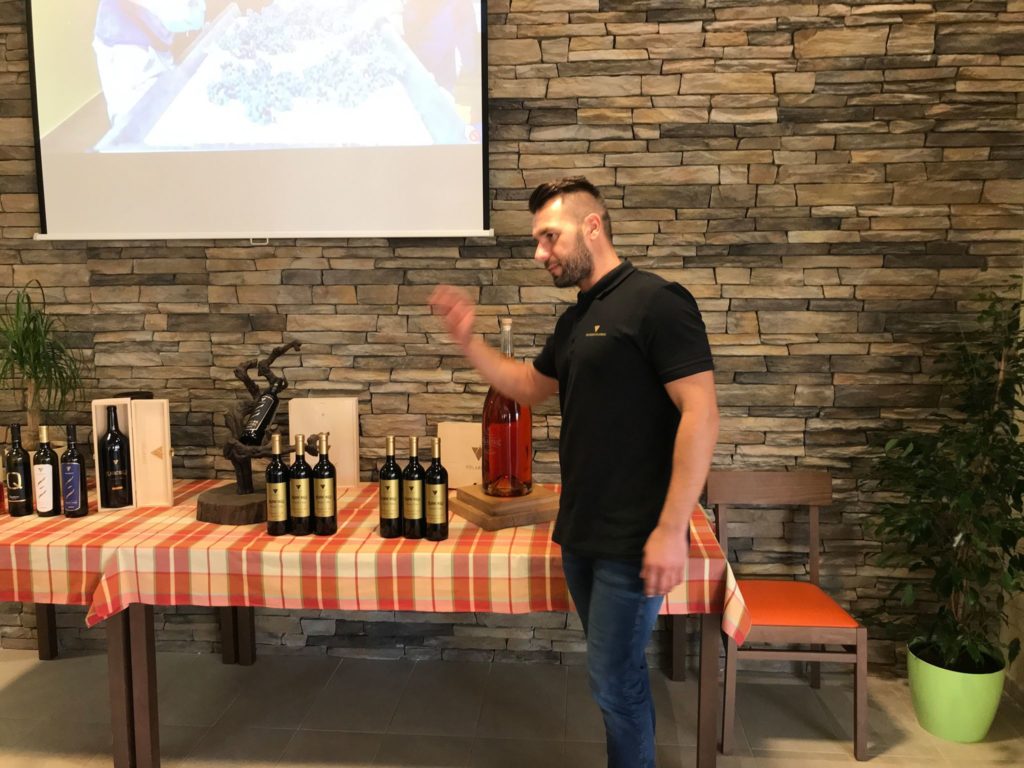 Oenologist Josip Volarević is a professor at Mostar University: he has a researcher's mindset.
After having tasted the non-Komarna "Quatrro" we started with two Rosés 2018, both from Plavac Mali.
La Chic
A free-running juice
The Eye reminds of a Southern France rosé, not an AOC Provence, but a wine from Languedoc-Roussillon
Nose : mostly floral (rose)
Palate : it feels very dry, (pH 3, low for a Plavac Mali), the rose is consistent with the first impression on the nose, its taste is very persistent.
Rosé Volarević 2018
10 minutes of skin-contact and its another world.
Eye: not exactly pink but, rathe, light red
Nose: mostly fruity (strawberry)
Palate: it reveals a good structure, the wine is deeper than the previous one.
Thinking about export: the first one does probably sell better than the latter. On the
other end the "skin-contact" is more gastronomical, probably those who want such a wine could accept to pay a bit more for it.
The Pošip 2018 (no picture) was also a good one, mostly vegetal (lemon leave
again), it reveals citrus fruit on palate, especially towards the long finish.
Plavac Mali Gold Edition 2015
Volarević's premium Plavac Mali. 80% aged eighteen months in Slavonian oak barrels.
Eye: very dark red
Nose is fantastic: blueberry, blackberry, ethereal
Palate of great complexity, add to the black fruit a touch of cacao, dense, silky tannins, a very long finish, with a wrapping retronasal floral (rose) feeling. I found at the end of my note:"I can't stop drinking it"
We also had the opportunity ta taste the Plavac Mali Gold Edition 2016, bottled less than month before. Again black fruit, lots of tannins still harsh, it still needs a lot of time in bottle (three years I'd say) before showing most of its potential which is, probably even greater than in the 2015 edition.
After the tasting, my friends were treated with a local specialty: frogs brudet, brudet in Dalmatia or brodetto in Rimini means fish soup, but in the Neretva marshes it can be also from frogs. I skipped the lunch because I couldn't stand the thought that I was eating amphibians, but I wish to report that it was, allegedly, very good.
Well, that's it for Komarna.
Til the next time…
Živjeli!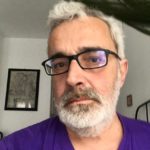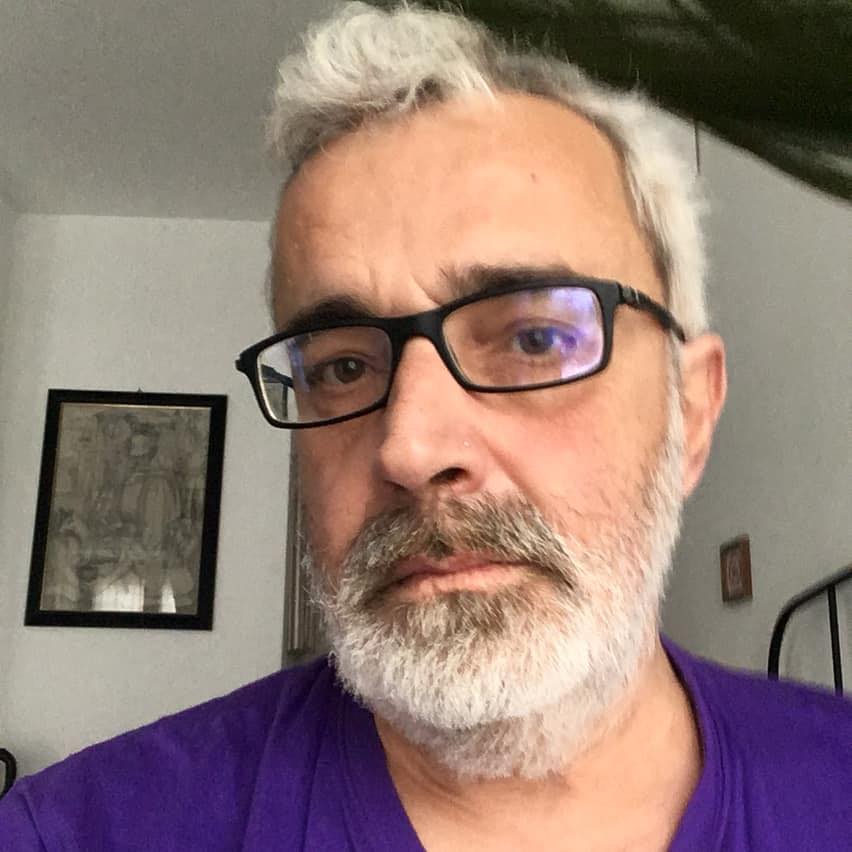 Gian Luca Garattoni