Wine on the silver screen: American wine story
Have you ever dreamed of owning or starting your own vineyard? I have just seen a film about dreams, about courage, about desire and about daring but also about the price it costs. A film about the pioneers' hardships and rewards – pour a glass of wine, sit back and join us on a cinemastic trip to Oregon!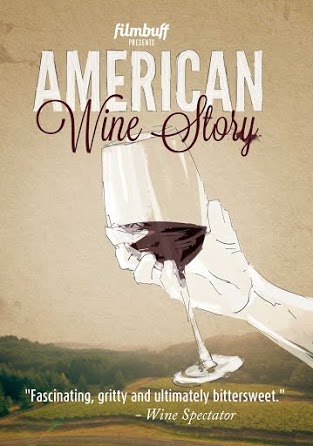 The movie in question is American wine story (http://americanwinestory.vhx.tv/) is really a movie with several stories about peoples ways into the world of wine. We meet people who are born into the world of wine, people who have been affected by a bottle of a glas of wine, by travels or people who just stumbled into the industry. We meet winemakers, journalists, bloggers and others who all with one thing in common: a dream, a desire, a wish go see if the grass is greener on the other side, to create something of their own, to leave an imprint.
Watch the trailer for the film here 
The film takes a starting point in the winemaker Jimi Brooks tragic death at 38 years of age. Through the story of him, his life and his herritage we get a glimpse into the American wine dream. We'll meet his young son who has picked up the craft, his realtives, friends and colleuges telling us about his dreams.
It is not a family chronicle, it is a film on wine, on people who wants to make wine, sell wine or coounicate wine. Dreams are a key note in this movie: the recipe for a good wine is a dream and the determination to make the dream true and we get to meet a number of wine personalities telling us their story and their dream.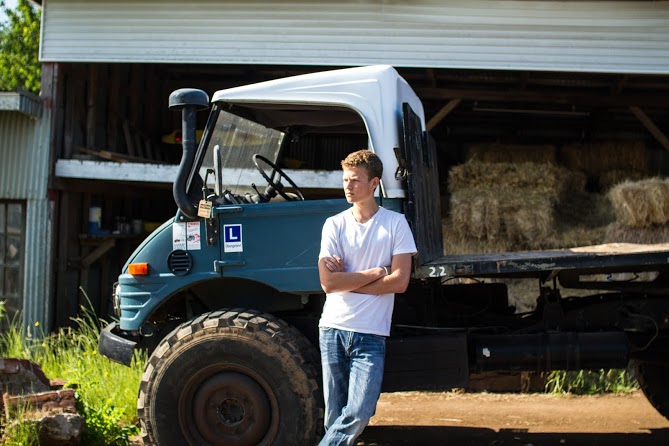 Many of these winepersonallities started as kind of pioneers who started in the wine business without a proffesional background in wine. Some got stuck on wine when they were out and traveling and worked in vineyards, others started their wine trials as hobbies or as projects and have since taken these experiences and created a place in wine for themselves.
In a scence the United States is a young wine nation, although they have been at for a while. They probably began growing wine already in the 15th century, or at least during the 16th century, but it was not until the mid 17th century that commercial wine production really got started. There are several examples of children taking over the vineyards and wineries after their parents but many have started from scratch. Many of these have started in areas that had not previously been known as wine regions or they have choosen vines that wasn't the obvious one. Pioneering – often they have been proving their neighbours wrong, then again we remember the ones that has succceded and perhaps forget all the experiments gone awry.
Much of the film is about set in and around Oregon. The first vineyards in Oregon were planted in the 17th century, but commericially it started in the 1960s. It does not take long before you find yourself wishing that you were in the right there, in Oregon, watching out over the vineyards, with a glas in your hand seeing all the breathtakingly beautiful landscapes displayed on the screen.
The film is a bit of a window into the American wine soul, where we are allowed to be a Peeping Tom. To get a glimpse into the American wine world, to follow a number of people taking that step into the unknown, daring to follow his or her dreams. It is also a document of the hardships of jumping ship and dare to try something new, to take that step into the unknown. The film also shows, however, that despite a lot of work and difficulties there are great rewards for those who do dare.
It's in there somewhere, I realize that this is not just an American story, it is also my story. However, not only mine but many others' story, a story that is universal and concerns all who has been swept away and fallen in love with something or someone. For all of us who are caught and let us be swayed by an interest. It may be that you start blogging, put your time on travel, wine tastings or decides to give up your job to start making wine, it might be the start of something new and wonderful!
In the film we meet several wine personalities such as Jimi Brooks, who began as an American football player, traveled to Europe, found wine and became a winemaker in Oregon and died much too early. We meet his son Pascal Brooks, who was 8 when his father died and today is Oregon's youngest winemakers. We meet Alan Baker, whose interest in wine awakens after a bottle of Alsace that got him to travel to California get into the world of wine at the age of 41 and lots of other winemakers, writers, sommeliers etc.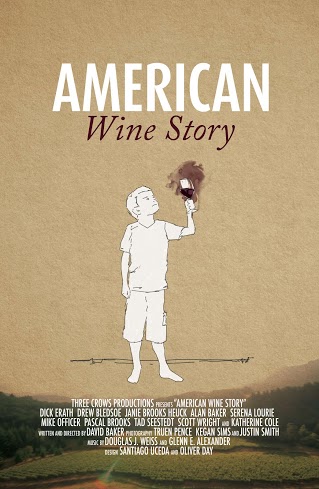 Join us for a story about wine, winemakers, wine communicators, about dreams and people who are just like us. Join in on a journey where wine is in the center and almost everyone thinks wine nerds are normal. Buy a good American wine, buy the movie, sit back and enjoy the ride!
The film can be bought here (http://americanwinestory.vhx.tv/)
WARNING – there is a great risk that you after this film wants tio start pioneering and start looking vineyards or blog platforms!
Cheers!
Magnus Reuterdahl
A version on this article was orignally published in Swedish at DinVinguide.se (http://www.dinvinguide.se/hwar-fjortonde-dag/american-wine-story-en-film-om-vindrommar/) Magnus also writes at Magnus Reuterdahls's vinblogg Aqua Vitae (http://vinotinto.wordpress.com/) and Testimony of a wine junkie (http://vinotintoinenglish.wordpress.com/)